Welcome to 2018!  
A special thank you to all the students of the Academy, and to those instructors across the United States that supported our growth.  This year will bring about some new classes,  Seminars with some of the best in the business of Martial Arts, and CPR Certification.
Look for upcoming seminars on our Event Calendar and the bottom of any of our Pages.  This year again we will have our 15th Filipino Arts Camp at the Armas De Mano Academy within the Midwest Academy Dojo, as well as The Midwest Summit which is geared for the serious all-around martial artist.  In May and October, we have the Wing Chun Seminar with Sifu Francis Fong as our guest.  Register for these seminars online early to guarantee your spot!
Potential martial arts students, this is your year to make a difference in getting in the shape of your life.  Law Enforcement personnel, give us a call and get involved in the Filipino Martial Arts classes to support you understanding of edged weapons, baton tactical techniques, and takedowns/control maneuvers.
NEW TO 2018 ---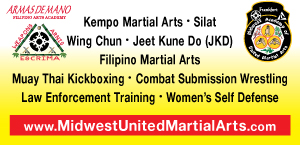 Look for upcoming information and get prepared to have some fun!
Master/Guro David Greco