"Fit As A Fighter"
FINALLY A PLACE FOR KICKBOXING FOR WOMEN !!!  HIGH SCHOOL - COLLEGE - WORKING PROFESSIONAL
For the enthusiastic individual who wants to experience the best in kickboxing programs in the south suburbs.  Experience a high-intensity, high-impact workout for a total body workout that "Rocks Your World" in a more personable group setting. Increase stamina, strengthen your muscles, increase flexibility, build overall confidence, and simply enjoy the fun as you listen to music to get you fired up! And before we forget........to clear your mind of WORK!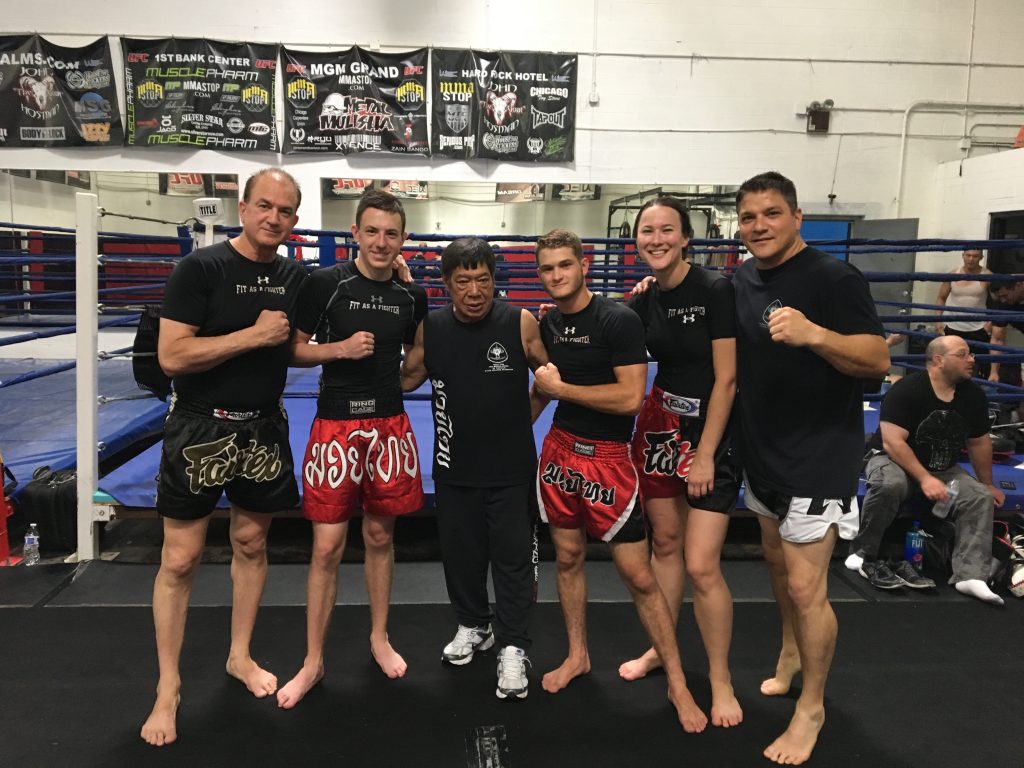 "Fit As A Fighter"
Muay Thai Fitness Kickboxing Program
The Midwest Academy of United Martial Arts Kickboxing Program joins others across the country in promoting the latest fitness craze in America today. Enjoy the benefits of aerobic activity as you sculpt your upper and lower body to be toned and strong, burn off the fat like you have always desired, and listen to some energy packed music during the "calorie busting"  activity.
Not only due the students get in shape, they learn practical and proven self-defense skills that are a blend of various martial arts styles - with Muay Thai he deadliest of all Martial Arts as the core.  Our class will help you develop hand-eye coordination, understand distancing and timing, develop upper and lower body coordination, and the correct postures to generate all that FIGHT POWER! 

You will feel comfortable in our program because we create an environment that is upbeat and friendly, and if you haven't been to the gym (that seems to never quite work) in a while, not to worry!  While the ring bell sounds off......we will let you train at a pace that is manageable for you and your body.
On the other hand, for the individual that has a passion for staying in shape and looking for a new challenge - look no further. The dynamic pace of this program will challenge your abilities without question.
Each class is packed with conditioning drills and exercises. We separate ourselves as one of the leaders in this business by blending various styles of martial arts together.  We teach from the Muay Thai Art to create strength, agility, and cardiovascular endurance.  Circuit training is also incorporated to make sure you get an appreciation of what it is like to GET TIRED.  That's when frustration sets in....... and you get to the point where you want to give up.........then you look at everyone else and say...they are in the same boat.  Everyone will get exhausted if you put in a constructive workout, regardless of your background.  My goal is to push you ..and trust me .....I will.......and I will be proud of you for allowing me to make a difference in your life.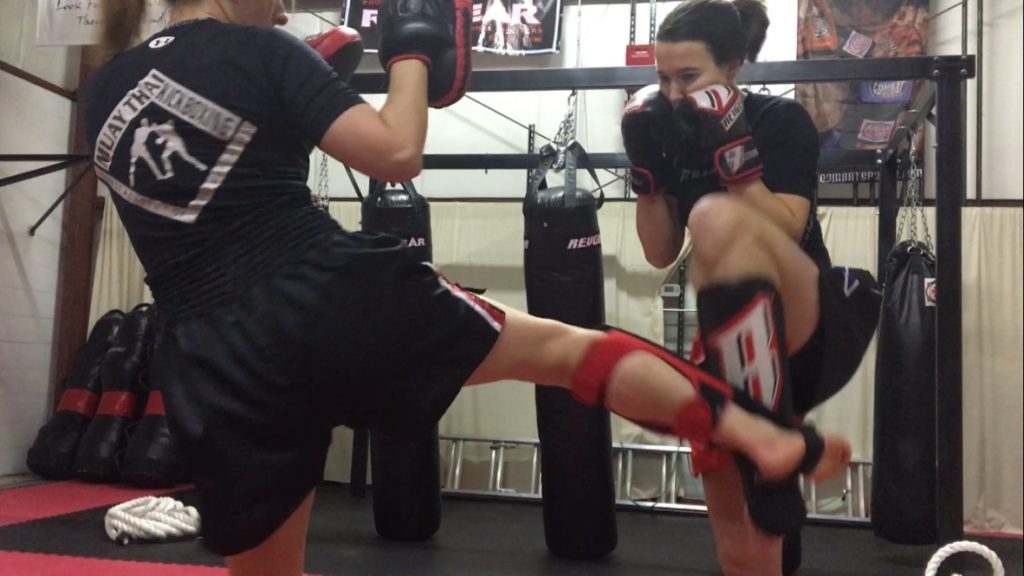 If you are not at all excited about the the benefits that come from giving it your 110%....please respect our decision to ask that you look elsewhere in a school that may better serve your needs. This class is Martial Arts based so expect to learn this beautiful style from Thailand.  It adds a whole new dimension of elbow strikes, knees, clinches, etc. that will have you appreciate the training without stepping right into the ring. Respectfully, this is not a Jane Fonda Step Class or Tae-Bo, and not even close to a traditional Boxing class.  While each of the mentioned may have merit, you best think again about what we can really do for you and your body.
Our kickboxing session will bring out a whole new you and more!  We are so confident that our" Fit As a Fighter" program is worth every bit of your evening time that we invite you to join one of our 2-day trial  evening classes for only $25.00.
The photos below show you a glimpse of what is you will be doing....and.. well get ready to get as FIT AS A FIGHTER."!
Visit our Gallery to see more photos from our classes. 
Benefits of a complete fitness program
FUN: In order to benefit from any fitness program, you must enjoy being a part of the solution.  When you come on board, you will see the difference immediately as others around you are excited about the fitness process.

CARDIOVASCULAR:  When it comes to living a healthier lifestyle, we can all appreciate the benefits of cardiovascular activity.  As a matter of fact, the amount of exercise may be more important than intensity to improve cardiovascular health. Our classes will keep you moving so we do not lose sight of your goals, and for the better than average individual, increases in duration or intensity will allow you to achieve even greater fitness gains!

MUSCLE TONE AND CONDITIONING:  Americans simply do not exercise enough, and although the amount of exercise is up for debate, we recognize that exercise changes skeletal muscle, which plays a key role in the reduction of cholesterol. Exercise also influences the type and location of body fat, which is also a key risk for cardiovascular disease.  To help in that effort, developing a strong, toned, attractively shaped body therefore needs a fitness program that provides the benefits of working all the muscle groups.

WEIGHT LOSS:

 Many people exercise to lose weight, but when that does not occur, we end up back on the couch!  At the Academy, we become a part of your goal to shed those extra pounds and work towards a healthier lifestyle.  We get excited just like you when we see the difference, and when YOU feel good about YOU, that is all that counts! 

 
FLEXIBILITY:  Flexibility is key to a healthier lifestyle.  Flexibility training (stretching) will allow you to increase your range of motion for the Kickboxing sessions and provide your body with the ability to operate at peak levels of performance, decrease the risk of injury, reduce muscle soreness and improve overall posture, reduce risk of low back pain, increase blood flow and vital nutrients to body tissues, improve muscle coordination, and allow you to continue enjoying the fun by simply relaxing both mind and body.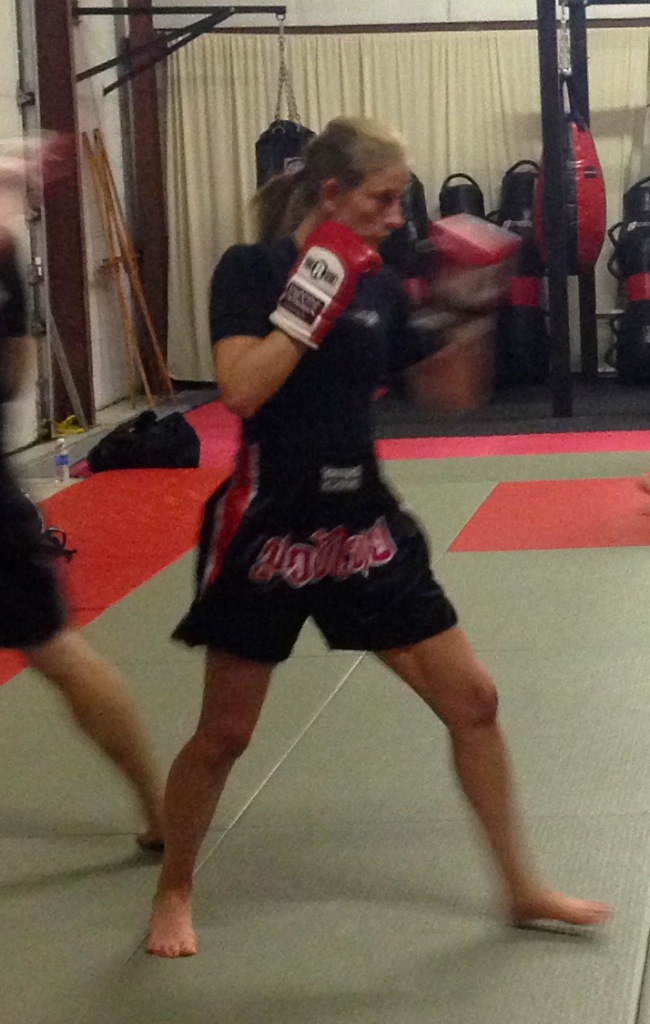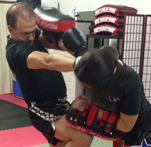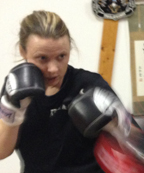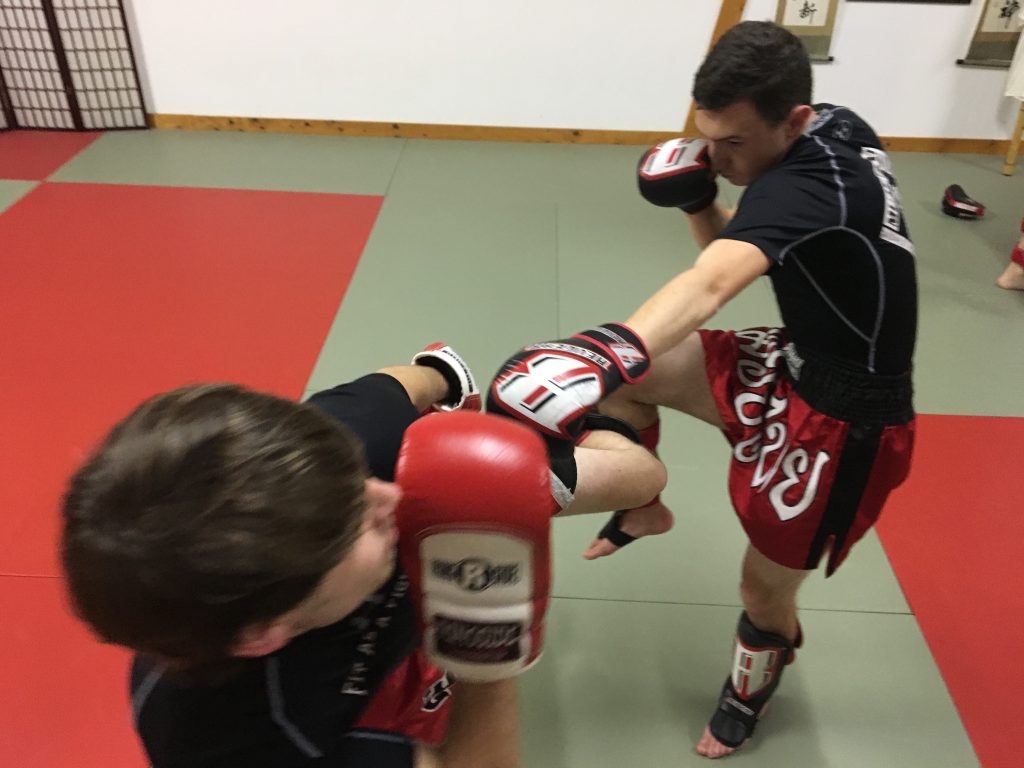 "The classes are definitely a step up from the traditional kickboxing classes at health clubs and now the Park District. I am learning martial arts indirectly and at the same time toning up my muscles, and increasing my stamina." " I specifically enjoy the smaller class sizes offered and get the attention from Dave to help develop strength and speed with my legs" - Don
" I'm starting to feel the difference after a few short weeks" Rob
"I can't believe what this class does for me. After a long day at work and drive home I look forward to coming to class ......... reduce the anxiety"Felicia

The Midwest Academy of United Martial Arts is proud to be a RevGear, Combat Sports International and Ringside Authorized dealer. Feel free to visit their site at www.combatsports.com and call us at the Academy to take care of your needs.
Register via our Home Page for a Fit As A Fighter trial workout - ONLY $25.
MUAY THAI KICKBOXING..... SWEAT..... PUNCH..... KICK..... ELBOW..... SWEAT MORE...CALL YOUR FRIENDS! NO 4-6 WEEK CLASS TO WORRY ABOUT - ALL CLASSES  ARE YEAR ROUND
CLASS TIMES
: Monday & Thursday 8:00-9:00. You must be least 16 to enroll.
Cost: Only $60/month plus equipment.  Academy approved focus mitts and gloves required and are purchased at discounted rates upon joining.  Hand wraps and mouth guard are suggested, but not mandatory.

Classes may be cancelled for seminars, vacation, holidays, staff training, lack of participation. Must be 16 or older to participate (parent's signature required).  Frankfort Law Enforcement Personnel, Community Services Personnel, and Fire Department Personnel will receive discounted pricing.